Wow! So I am an official blog-slacker. I can't believe I have only been here for a week... it seems like a month! Since my last blog, I have had many... adventures. It has only been a few days, but so much happens every day that I am afraid this may be a very long post!
Sunday, we went to church at the Hyde Park ward. It was sooo cool... the ward there was super diverse, but you could really feel the strong connection between them all and they were very, very welcoming. The Spirit there was so strong, and it was great to know that anywhere in the world, the Gospel is the same and you are always welcome.
Sunday afternoon, (don't judge me!) we went to a pub to watch the England-Germany World Cup game! It was absolutely crazy. There was no room to sit, and everyone was just crammed into the little standing area and spilling into the street. All of the people in there were drinking and VERY into the game. It was a fun (and crazy!) experience... what a good way to spend the Sabbath!;] (Some of the girls took pictures here of the crowd, which I still need to get; that's one reason why I put off this post for so long.)
Sunday evening, we headed over to Hyde Park across the street because PAUL McCARTNEY was playing a concert in the park. Tickets were pretty expensive, so we just stood outside the wall and peeked in (and we could totally still hear him play.) At the end, they opened the gates so we could totally see the screen and even see his little body up on the stage... sooo cool!!!
at the concert with some of the girls
Paul on the screen... I swear it's him! The picture is bad but we could see pretty well!
So Sunday overall was (as usual) super fun and crazy busy! Monday, we had the first day of classes... just when we were all forgetting about them! After class, we were all freaking out kind of a lot because we thought the classes were going to be impossible (we have a TON of reading every night... especially for the Bible and Christianity class), but they are turning out to be okay. They are just very time-demanding (which is unfortunate, because we don't have too much time here anyway!) The rest of Monday was pretty chill; we just went to lunch at this super yummy place called Giraffe, shopped around London a bit, and worked on homework.
At Giraffe- yes, I meant to look creepy:]
those are little Giraffes we are holding!
Tuesday, we had class again (still freaking out, but a bit better...) and then headed to...
And... let's just say, it was an adventure. First of all, it was just awesome to be there- thousands and thousands of people everywhere, the best tennis players in the world in every court, and a lovely afternoon- epic. So, after having a somewhat normal Wimbledon experience, we were about to leave. Some of our group sat down to watch one more match, and a few of us went to wander around some more. Well, we decided that we wanted to see Centre Court. This is the court where the biggest matches are played, where tickets are very expensive and security is tight. To make a long story short, we used our girlish charms to not only
get in
to the stadium and look down on the field (this was all we wanted at first, but you needed a ticket to do so), but to actually get seats and
sit down!
For free! So yes, we got directly past two guards and got to see the main attraction!
inside the gates
courtside at one of the smaller matches at Wimbledon!
on the famous grassy hill
Centre Court! Ah!
(You can't tell, but when we took this picture there was a guard standing immediately to my right yelling at us to return to our seats and sit down.. ha!)
Celebrating our sneaking in to Centre Court with happy faces:]
After we left Centre Court, we returned to find our friends, and found out that they had been sitting by and talking to the coaches of the two boys that were playing doubles in that match! So we made friends too! They recorded us, took pictures, all that jazz. At the end of the match, they offered to introduce us to the two players, and, seeing as they were Paraguayan and Argentinian, 18 years old, and very, very good looking, we were forced to oblige. Yes, we met them. Yes, they kissed us on the cheeks. Yes, it was definitely an above average Wimbledon experience!!
One of the boys- the people that took the picture for us decided to take two pictures instead of one and cut it in half:[
Wednesday, we had a field trip and no classes! Woo hoo! We started the day at St. Paul's Cathedral in London.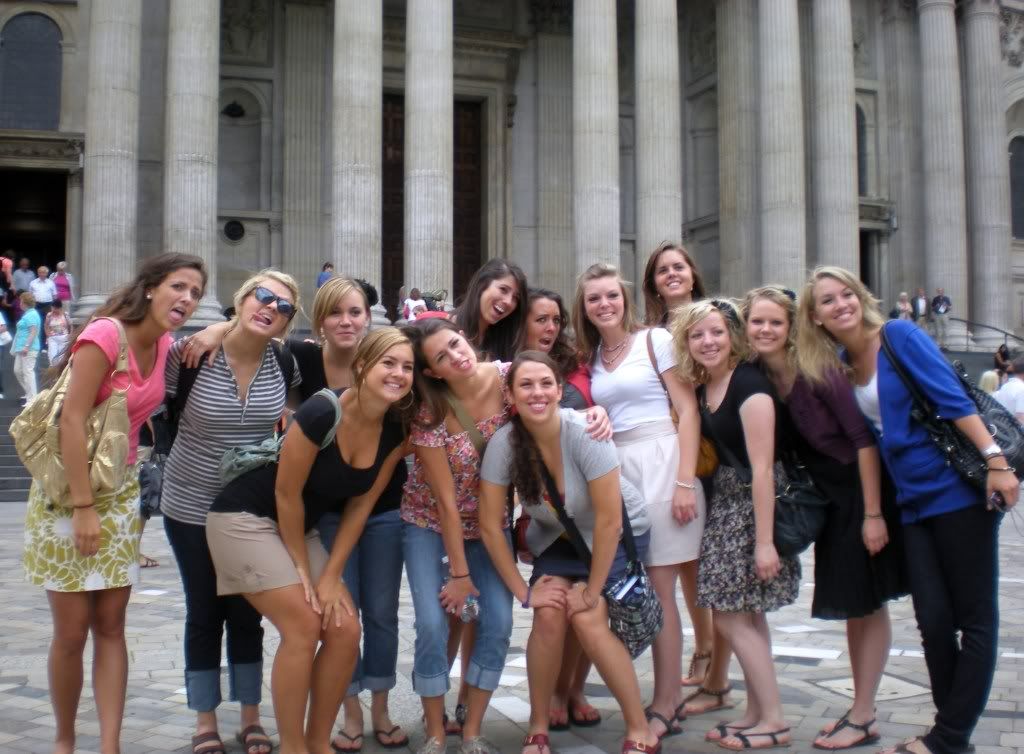 Our directors had bought us tickets for the Supertour, which is not only the average tour, but allows you to climb the 500+ steps to the very, very, very top of the highest dome. The tour was overall very interesting, but I had a slight mishap at the end... While we were climbing to the top of the dome, we were almost to the top when the girl behind me stepped on the back of my shoe. Not a big deal, except that I was wearing my precious Rainbow flip-flops. And that the stairs had holes in them. So, my flip flop goes tumbling through the hole, lodges in a little crevice about 50 feet below us, and stays there. Long story short, the rest of the group goes on, I am stuck with the workers for about half an hour-45 mins trying and get my shoe back, but no luck. I move on without my shoe.
(sad face in the ridiculously narrow and small staircase- yes, those are walls on both sides of me and yes, I hit my head several times.)
my flip flop from where it fell and up close.
If you know me, you know that I wear these shoes almost every day, and was therefore incredibly sad. And, I went the rest of the day without a shoe- walking around downtown, in museums, in the Cathedral, in the Tube, everything.
I actually have a picture of the bottom of my feet (I was completely barefoot a lot of the time because I didn't like being uneven), but trust me, you don't want to see it.
So after I give up on my flip flop, I go to the top all by my lonesome (the group all left) and take a few sad pictures by my lonesome and head back down by my lonesome.
With the help of a kind workerman, I looked for my group, but they were no where to be found. So, I left to try and find my way to the Museum of London by myself. I go outside and what do I see? One other girl from my group, wandering around by herself! I was no longer alone... yay! She had simply gotten lost, and luckily I came out of the door that she was by, so we left together. We were quite lost, asked for a lot of help, and after a long time, finally found the museum. Woo hoo!
Wednesday night, after a crazy day, I found some shoes and we headed back to Hyde Park for another concert in the park... Kings of Leon this time! We didn't get in, but of course we could hear the music and made friends with some security guards! It was very fun!
(ignore the fact that I look drunk here... I promise I wasn't!)
What a crazyyyyy day! Thursday, we had class again. After class, me and one other girl decided to walk to the Victoria and Albert Museum (which is quite far away... we ended up spending about 5 hours straight on our feet by the time we got back) for a field study assignment. We took the long way around, stopped in a few museums and such on the way, and went through the park on the way home. So fun!
We could try on a corset and hoopskirt in the V&A... haha! (This is my proper face, and I am actually holding up the skirt, which was too big around, broken, and too short for me!)
Hyde Park... so beautiful!
Peter Pan statue!
Thursday night, we went to the local institute at the Hyde Park building! We met some super fun British girls (on the right front and second from the left in the back), and hopefully are going to hang out with them soon!
Today, we had our first all-day field trip! We boarded a bus early this morning and headed over to Canterbury, England.
There were a lot of really cool ruins from Henry VIII's dissolution. It was interesting, because we were able to see the things that we are learning about in class! (Chaucer's
Canterbury Tales,
for example.)
There was also a very cool cathedral (St. Augustine's Cathedral) which was HUGE and absolutely beautiful which we got to see.
Our tour guide was completely psycho, so we didn't get to take very many pictures in there. We then boarded the coach (bus) again, and drove on over to Cambridge! Can you say beautiful? It was so fun and cool to be there. When we got there, most of the campus was actually closed (bummer!), but we enjoyed walking around, attended a church service (so that we could see the King's College chapel), and I bought a cheap, cute Cambridge t-shirt! So fun!
the typical Cambridge building- amazing!
Last but not least, when we finally got home tonight, we were all starving and headed out to a yummy dinner at Nando's!
Sorry for the ridiculously long post, but like I said, I have been bu-u-sy! It is amazing here though. Every day is an adventure... just the way I like it! Goodnight!
One last picture: I took this on the plane with my laptop while I was flying to London, but forgot to post it last time. Love you all!